Sarah Rose, Chief Executive Officer
For nearly 20 years, Sarah has managed successful regional, state and national campaigns to elect progressive candidates and achieve landmark environmental practices and policies. Sarah is currently the Chief Executive Officer of the California League of Conservation Voters (CLCV) Education Fund, the nonpartisan voter engagement and capacity-building arm of the environmental community, as well as our sister organization, CLCV, the political action arm of the state's environmental movement.Sarah most recently worked with the Western Conservation Foundation, a public charity that gives grants to non-profits working to build leaders to protect the West's land, air, and water. Previously she worked for more than 15 years at CLCV, first as Political Director and ultimately as Executive Vice President, overseeing CLCV's electoral work along with its collaboration with the wider environmental community on legislative priorities.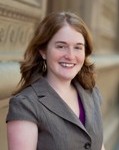 Rebecca Saltzman, Government Affairs Manager
Rebecca manages CLCV Education Fund's Green California program, a network of more than one hundred organizations with a common environmental, health, and justice agenda, working collaboratively to speak to the legislature with one voice. Rebecca graduated with a BA in Sociology from the University of California, Berkeley. Prior to working at CLCV Education Fund, Rebecca spent years as a public transit and policy advocate, coalition builder, grassroots organizer, and manager with local, state, and national issue-based organizations. Rebecca worked as Campaign Director for The Next Generation, a full-service campaign consulting, management and issue advocacy firm specializing in environmental issues in the Bay Area and across California. Rebecca is an elected member of the BART Board of Directors, representing District 3 in the East Bay, and currently serves as President. Rebecca also serves as vice-chair of the Capitol Corridor Joint Powers Authority.