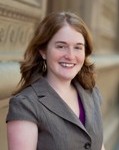 Rebecca Saltzman, Interim Executive Director
Prior to taking on her role as Interim Executive Director, Rebecca managed CLCV Education Fund's Green California program, a network of more than one hundred organizations with a common environmental, health, and justice agenda, working collaboratively to speak to the legislature with one voice. Before joining CLCV Education Fund, Rebecca spent years as a public transit and policy advocate, coalition builder, grassroots organizer, and manager with local, state, and national issue-based organizations. Rebecca worked as Campaign Director for The Next Generation, a full-service campaign consulting, management and issue advocacy firm specializing in environmental issues in the Bay Area and across California. Rebecca is an elected member of the BART Board of Directors, representing District 3 in the East Bay. Rebecca also serves as vice-chair of the Capitol Corridor Joint Powers Authority.
Matt Abularach-Macias, California Voices Program Coordinator

Matt manages our California Voices program, focused in the Inland Valley Region. Raised in the Inland Empire (Rialto and Rancho Cucamonga), Matt has been able to bring his local knowledge to his work focused in the region to build partnerships and amplify community concerns about the impacts of climate change, the local benefits from investments in clean energy, and the critical need to conserve and protect our environment. His work with CLCV EF is an extension of his previous work organizing around educational access, LGBT rights, and anti-racism issues. Matt graduated from UCLA with a degree in Chicana/o Studies and worked in 2014 on the successful campaign to elect Pete Aguilar to the US Congress.